Description
Edit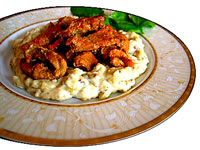 This recipe is for 8 servings.
Ingredients
Edit
Directions
Edit
Smoke whole eggplants in covered barbecue, or bake at 350°F for 20 – 30 minutes, until tender.
Peel eggplants and remove seeds.
Cut flesh into ¼" cubes.
Melt butter in skillet.
Add flour and cook and stir until light brown.
Stir in milk.
Cook over very low heat 5 minutes.
Nutritional information
Edit
Per serving:
About 99 calories | 144mg sodium | 24mg cholesterol | 8g fat | 4g carbohydrates | 3g protein | 0.26g fiber
Ad blocker interference detected!
Wikia is a free-to-use site that makes money from advertising. We have a modified experience for viewers using ad blockers

Wikia is not accessible if you've made further modifications. Remove the custom ad blocker rule(s) and the page will load as expected.