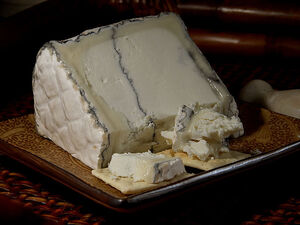 Name Variations
Edit
About Humboldt fog cheese
Edit
Wikipedia Article About Humboldt fog cheese on Wikipedia
Humboldt Fog is a goat milk cheese made by Cypress Grove Chevre, of Arcata, California, in Humboldt County. Humboldt Fog is a mold ripened cheese. It has a central layer and outer covering of ash. It has a white exterior mold. This cheese won first Prize for American Original Cheese at an American Cheese Society competition in Washington, D.C. in August, 2002.
Ad blocker interference detected!
Wikia is a free-to-use site that makes money from advertising. We have a modified experience for viewers using ad blockers

Wikia is not accessible if you've made further modifications. Remove the custom ad blocker rule(s) and the page will load as expected.