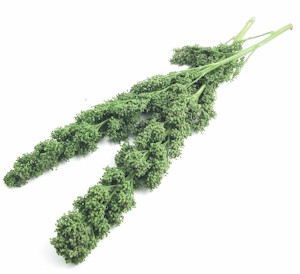 About Huauzontle
Edit
Huauzontles are long-stemmed greens eaten in Mexican cuisine. The flower buds and leaves are eaten and the taste is similar to broccoli. Typically the greens are boiled, drained, batter-dipped then pan fried encasing cheese like a chile relleno. The leaves are delicious in salads, as are the young flower buds. A bright red type is available, which adds colour to any dish. They are very prolific, and ready for picking about two months after seeds are planted. Plant straight after frosts, and they will keep producing for much of the year. The leaves do not get stronger as the plant goes to seed.
Ad blocker interference detected!
Wikia is a free-to-use site that makes money from advertising. We have a modified experience for viewers using ad blockers

Wikia is not accessible if you've made further modifications. Remove the custom ad blocker rule(s) and the page will load as expected.