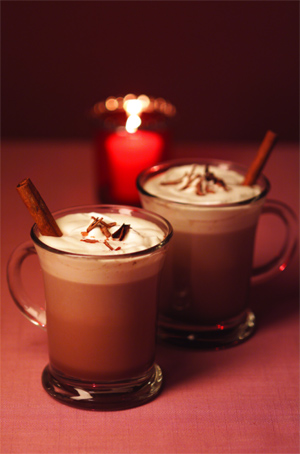 Spicy and will warm you right up.
For some, hot chocolate is a comfort food.. it's warm and sweet. Sometimes it's part of a family bedtime ritual.
Hot chocolate recipes usually involve chocolate melted and dissolved into warmed milk. Variations include different spices to intensify the flavor, especially "warm" spices. Alternatives to the milk include cream, water, soy milk or other milk substitutes. Some recipes include sweeteners or liquors. To add a special touch, finish it off with whipped cream, whisked foam, chocolate shavings, a stirrer made of a peppermint stick, marshmallows or sticks coated in rock candy (crystallized sugar).
Basic Ingredients
Edit
Additional Ingredients
Edit
The following ingredients are added to create different recipes and flavor to individuals' preferences.
sweeteners
spices
liqueurs
flourishes

candy stick
crystallized sugar on a stick (also for stirring)
Ad blocker interference detected!
Wikia is a free-to-use site that makes money from advertising. We have a modified experience for viewers using ad blockers

Wikia is not accessible if you've made further modifications. Remove the custom ad blocker rule(s) and the page will load as expected.