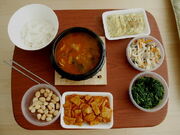 Description
Edit
Ingredients
Edit
Directions
Edit
Put malt flour into lukewarm water and set aside for about l hour. (throw away bottom settling).
Put wheat flour into malt water, and make slow boil on low heat and then simmer for about 1 hour.
Remove the glue from heat and mix fermented soy bean flour and then lastly add hot pepper powder and salt, and mix well.
Ad blocker interference detected!
Wikia is a free-to-use site that makes money from advertising. We have a modified experience for viewers using ad blockers

Wikia is not accessible if you've made further modifications. Remove the custom ad blocker rule(s) and the page will load as expected.