Description
Edit
Boiled green vegetables. They can be found with sweet taste (vlita, antidia, zochi) or bitter taste (radikia, xorta tou vounou). Is is very usual to eat green vegetables in Greece.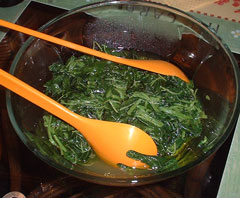 Ingredients
Edit
Portion of green vegetables
Directions
Edit
Chop the roots of the green vegetables and wash them well.
They need careful washing! boil them in a saucepan for around 30 minutes and serve them hot or cold with olive oil, salt and lemon juice.
Ad blocker interference detected!
Wikia is a free-to-use site that makes money from advertising. We have a modified experience for viewers using ad blockers

Wikia is not accessible if you've made further modifications. Remove the custom ad blocker rule(s) and the page will load as expected.