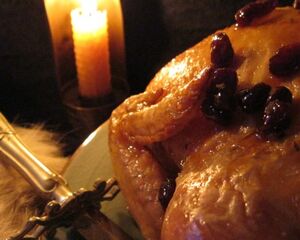 Ingredients
Chicken
1 whole chicken for roasting
olive oil/butter (~1 Tbs)
salt
Sauce
1/2 cup apple cider vinegar
1/3 cup honey
Dash of mint, dried or fresh (abt. 1 tsp.)
Small handful of raisins
~1 Tbs. butter
Directions
Rub the chicken down with olive oil/butter and salt and cook it in an oven at 450 degrees F for approximately an hour. Cook until the juices run clear and the thick meat of the breast is no longer pink.
While your chicken is roasting away in the oven, combine all ingredients for the sauce in a saucepan and have it simmer until the raisins plump up and the sauce reduces slightly. Remove the pan from heat, and, when the chicken is done, spread the sauce and raisins over the bird.
External Link
Ad blocker interference detected!
Wikia is a free-to-use site that makes money from advertising. We have a modified experience for viewers using ad blockers

Wikia is not accessible if you've made further modifications. Remove the custom ad blocker rule(s) and the page will load as expected.