Description
Edit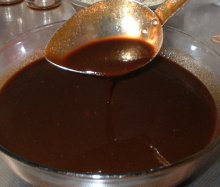 Though this Condiment was originally developed in India by the English, it takes its name from the fact that it was first bottled in Worcester, England. It's a thin, dark, rather piquant sauce used to season meats, gravies, soups and vegetable juices, and as a table condiment. It's also an essential ingredient in the popular Bloody Mary cocktail. Worcestershire's formula usually includes garlic, soy sauce, tamarind, onions, molasses, lime, anchovies, vinegar and various seasonings. It's widely available in supermarkets.
Ingredients
Edit
Directions
Edit
The spices must be freshly buised
The ingredients are to simmer together with the vinegar for an hour
Adding more vinegar as it is lost by evaporation
Then add the sherry wine (and if desired some caramel colouring)
Set aside in refrigerator for a week
Strain and bottle
Ad blocker interference detected!
Wikia is a free-to-use site that makes money from advertising. We have a modified experience for viewers using ad blockers

Wikia is not accessible if you've made further modifications. Remove the custom ad blocker rule(s) and the page will load as expected.