All that garlic, fresh lemon, tahini and chickpeas is about to make you an international chef! It is delicious, it is easy! Hummus is served as an appetizer with fresh cut vegetables, pickles, pita bread and falafel as a dip. The way to eat the Hummus is an Israeli art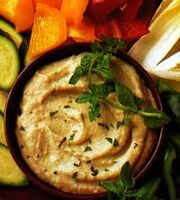 Ingredients
Edit
Directions
Edit
Cook chickpeas with the onion and the cilantro and cumin until soft. You may use canned chickpeas, but the chickpeas most be hot when blended.
Put all ingredients in a blender and use "puree" function. You could split all ingredients in two and repeat the above, unless you have a powerful blender.
Ad blocker interference detected!
Wikia is a free-to-use site that makes money from advertising. We have a modified experience for viewers using ad blockers

Wikia is not accessible if you've made further modifications. Remove the custom ad blocker rule(s) and the page will load as expected.