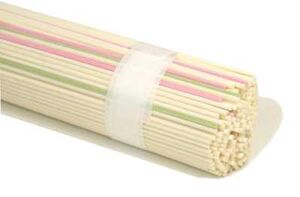 About Hiyamugi
Edit
Wikipedia Article About Hiyamugi on Wikipedia
Sōmen (Japanese: 素麺, そうめん) are very thin, white Japanese noodles made of wheat flour. The noodles are usually served cold and are less than 1.3 mm in diameter. The next thicker wheat noodles are called hiyamugi and even thicker Japanese wheat noodles are called udon.
Thin, fragile, white Japanese noodles made from wheat flour. They are sold in straight strands that are dried and bundled. Occasionally the bundles will contain a couple brown or light pink strands. Hiyamugi is generally served cold with dipping sauces.
Ad blocker interference detected!
Wikia is a free-to-use site that makes money from advertising. We have a modified experience for viewers using ad blockers

Wikia is not accessible if you've made further modifications. Remove the custom ad blocker rule(s) and the page will load as expected.