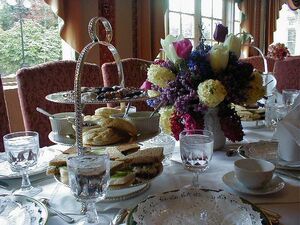 This British tradition is a late-afternoon or early evening meal, usually quite substantial. It originated in the 19th century as a simple, early workingman's supper. High tea can be served buffet-style or set on a table. It includes a variety of dishes such as Cornish Pasties, Welsh rabbit, Scotch woodcock and various other meat and fish dishes. Also included are plenty of buns, crumpets, biscuits and jams, as well as an elaborate array of cakes and pastries and, of course, steaming pots of hot tea.
Ad blocker interference detected!
Wikia is a free-to-use site that makes money from advertising. We have a modified experience for viewers using ad blockers

Wikia is not accessible if you've made further modifications. Remove the custom ad blocker rule(s) and the page will load as expected.