Description
Edit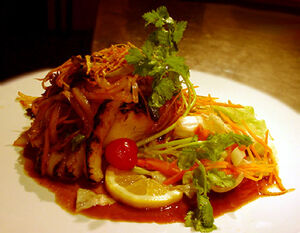 This recipe yields 4 servings.
Ingredients
Edit
Directions
Edit
Cut the sea bass in half horizontally.
Wrap in plastic wrap.
Steam the sea bass in an 8-inch, flat-bottomed steamer, covered, for 6 minutes, or until it is barely opaque.
To assemble: remove the plastic wrap.
Use a very sharp knife to cut the fish into eight 2-inch wedges.
Choose a flat, colorful plate to set off the dramatic form of the fish.
Stand one wedge on its end and show the herb filling of the other.
Garnish with fresh herbs.
Ad blocker interference detected!
Wikia is a free-to-use site that makes money from advertising. We have a modified experience for viewers using ad blockers

Wikia is not accessible if you've made further modifications. Remove the custom ad blocker rule(s) and the page will load as expected.