Description
Edit
This is a delicious colourful chili with a perfect blend of many vegetables with tofu in a thick spicy tomato base. This original recipe came from Runner's World magazine, although I have altered it to suit my likings. Frying tofu gives it a more meat like texture. For those who like chili very spicy, more chili powder may be added.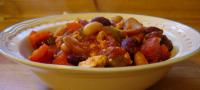 Ingredients
Edit
Directions
Edit
Saute first 4 in meduium heat.
Add tofu and saute until crisp and lightly browned (10 minutes).
Add rest of ingredients (beans, tomatoes, tomato sauce, carrots, and chili powder).
Boil, reduce heat and simmer 45 to 55 minutes.
Other Links add cummin powder and some basil
Edit
See also
Edit
Ad blocker interference detected!
Wikia is a free-to-use site that makes money from advertising. We have a modified experience for viewers using ad blockers

Wikia is not accessible if you've made further modifications. Remove the custom ad blocker rule(s) and the page will load as expected.