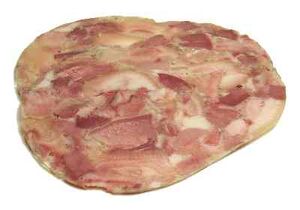 Name variations
Edit
About headcheese
Edit
Not a cheese at all, but a sausage made from the meaty bits of the head of a calf or pig (sometimes a sheep or cow) that are seasoned, combined with a gelatinous meat broth and cooked in a mold. When cool, the sausage is unmolded and thinly sliced. it's usually eaten at room temperature. Head cheese can be purchased in delicatessens and many supermarkets. In England this sausage is referred to as brawn, and in France it's called fromage de tête – "cheese of head".
Ad blocker interference detected!
Wikia is a free-to-use site that makes money from advertising. We have a modified experience for viewers using ad blockers

Wikia is not accessible if you've made further modifications. Remove the custom ad blocker rule(s) and the page will load as expected.