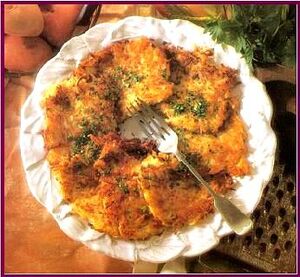 Finely chopped, cooked potatoes that are fried (often in bacon fat) until well browned. The mixture is usually pressed down into a flat cake in the pan and browned on one side, then turned and browned on the other. It's sometimes only browned on one side. Other ingredients, such as chopped onion and green pepper are often added for flavor excitement.
Ad blocker interference detected!
Wikia is a free-to-use site that makes money from advertising. We have a modified experience for viewers using ad blockers

Wikia is not accessible if you've made further modifications. Remove the custom ad blocker rule(s) and the page will load as expected.