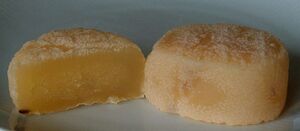 Name Variations
Edit
About Harz
Edit
Harzer cheese is a German sour milk cheese made from low fat curd cheese, which contains only about one percent fat and originates in the Harz mountain region south of Braunschweig.
Harzer is often small and round, in which case it is called Handkäse or Taler, or cylindrical, in which case it is called Stangenkäse. Frequently, the small and round variety is sold in a cylindrical package, which is then called Harzer Roller.
Harzer cheese is typically flavoured with caraway. Some varieties are white mold cheeses, others red mold cheeses. The latter type generally has a stronger flavour, and both types develop a strong aroma after maturing for a few days or weeks. Harzer has a distinctive strong smell and overpowering flavour.
Ad blocker interference detected!
Wikia is a free-to-use site that makes money from advertising. We have a modified experience for viewers using ad blockers

Wikia is not accessible if you've made further modifications. Remove the custom ad blocker rule(s) and the page will load as expected.