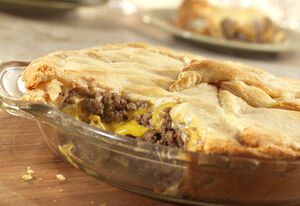 A different take on meatloaf that the whole family will love. Serves 4-6.
Ingredients
Edit
Meat Mixture
Mashed Potato Mixture
Topping
1/2 c. (2 0z.) shredded cheddar cheese
Directions
Edit
Preheat oven to 350 degrees.
Meat Mixture
Combine all ingredients until evenly mixed. Place into a round casserole dish. Bake uncovered for 35-40 minutes.
Mashed Potato Mixture
Combine milk, salt, and butter; heat to a simmer (do not boil) and remove from heat.
Add potato flakes, stirring gently until mix thickens (in small quantities add additional flakes if a thicker mixture is desired).
Spoon potatoes on top of the cooked meat pie, sprinkle with cheese, and bake an additional 3 - 4 min or until cheese has melted.
Let cool for 10 min and serve.
Ad blocker interference detected!
Wikia is a free-to-use site that makes money from advertising. We have a modified experience for viewers using ad blockers

Wikia is not accessible if you've made further modifications. Remove the custom ad blocker rule(s) and the page will load as expected.