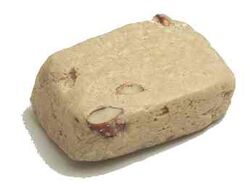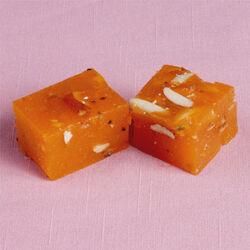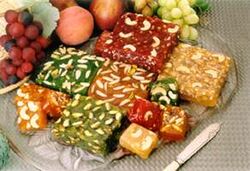 Name Variations
Edit
About Halvah
Edit
Wikipedia Article About Halvah on Wikipedia
The word halva is used to describe two distinctly different types of confections.
One type of candy called halva is popular in India and neighboring countries, and is made with semolina wheat, sugar or honey, and butter or vegetable oil. Raisins, dates or other dried fruits are often included. Though the Indian halva is considered to be essentially a "North Indian" confection, it is famous in South India too. The prominent South Indian version of halva (or "alvaa", as it is called in Tamil) is from Tirunelveli (pronounced Thiru-nel-vaeli), a city in the state of Tamil Nadu. A famous shop serves halva after six in evening hence it is called "irutu kadai" meaning "dark shop" in Tamil. It is known for its delicious halva which is red in color and has ghee floating on it.
Ad blocker interference detected!
Wikia is a free-to-use site that makes money from advertising. We have a modified experience for viewers using ad blockers

Wikia is not accessible if you've made further modifications. Remove the custom ad blocker rule(s) and the page will load as expected.