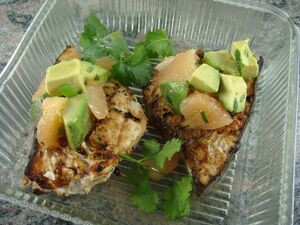 Ingredients
Edit
Directions
Edit
Rub mixture on steaks, reserve.
Mix lime juice, zest, and honey; reserve.
Dice avocado; gently toss with lime juice mixture. Reserve.
Peel and segment grapefruit, reserving juice; cut segments in half.
Gently fold grapefruit and juice, onion, chipotle pepper, cilantro and remaining 1 teaspoon each of cumin and salt. Reserve.
Top with ½ cup avocado grapefruit salsa.
Garnish with cilantro sprigs.
Ad blocker interference detected!
Wikia is a free-to-use site that makes money from advertising. We have a modified experience for viewers using ad blockers

Wikia is not accessible if you've made further modifications. Remove the custom ad blocker rule(s) and the page will load as expected.