Description
Edit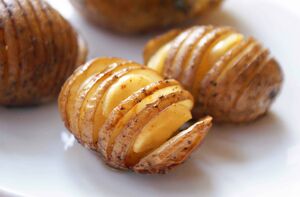 Ingredients
Edit
3 kg. whole potatoes
3 cups wasabi paste (if desired)
1 cup wasabi with soy sauce, mixed (if desired)
fresh minced garlic
chili peppers
1 cup olive oil, for sprinkling
1 tbsp. onion powder
2 tbsp. salt
2 tbsp. black pepper
1 tbsp. oregano (if desired)
2 tbsp. rosemary (if desired)
1 pack cheese, sliced (Cheddar, Colby, Parmesan, or Swiss)
hot sauce, optional
butter, optional
chili leaves
Directions
Edit
Wash the potatoes with salt and hot water as mixed and prepare the ingredients.
Microwave potatoes until half done.
Make up to five cuts across each potato, deep, but not all the way through.
Sprinkle with spices (seasoned salt, onion, black pepper, oregano, and rosemary) over each potato and on the skin. Fill each slit with slices of cheese, fresh minced garlic and wasabi with ginger or chilli paste, hot wasabi paste, wasabi soy sauce, or hot peppers of choice.
Wrap each potato in individual pieces of foil.
Put on grill with indirect heat and close the lid.
Serve hot, garnish with chili leaves, and drizzle with the hot sauce and/or butter, if desired.
See also
Edit
Ad blocker interference detected!
Wikia is a free-to-use site that makes money from advertising. We have a modified experience for viewers using ad blockers

Wikia is not accessible if you've made further modifications. Remove the custom ad blocker rule(s) and the page will load as expected.