Description
Edit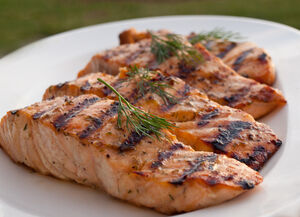 This red-hot recipe has fresh secrets: salmon, dill, and garlic. This salmon dish is mixed with authentic lemon juice, olive oil, salt, and pepper, and is great for lunch and dinner even when served with other seafood dishes, as it adds some smoky zest to the fish and delivers a steamy, herbaceous flavor.
Ingredients
Edit
Directions
Edit
Prepare the grill. In a small bowl, combine oil, herbs, garlic, lemon juice, salt, and pepper.
Using a pastry brush, brush salmon with the herb mixture.
Cook on the grill until done (salmon is done when it flakes when tested with a fork). Serve hot and plain or with rice or any seafood.
Nutritional information
Edit
Per serving:
210.2 Calories | 9.5g Total Fat | 1.4g Saturated Fat | 2.3g Polyunsaturated Fat | 4.7g Monounsaturated Fat | 75.mg Cholesterol | 97.7mg Sodium | 476.9mg Potassium | 0.4g Total Carbs | 0g Dietary Fiber | 0g Sugars | 29g Protein