Description
Edit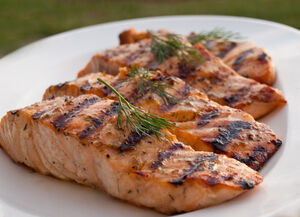 You've barbecued ribs and you've barbecued chicken. Now it's time to try some seafood!
Ingredients
Edit
Directions
Edit
Prepare grill.
In a small bowl, combine oil, herbs, garlic, lemon juice, salt and pepper.
Using a pastry brush, brush salmon with herbed mixture.
Cook on barbecue until done (salmon is done when it flakes when tested with a fork).
Nutritional information
Edit
Per serving:
210.2 Calories | 9.5g Total Fat | 1.4g Saturated Fat | 2.3g Polyunsaturated Fat | 4.7g Monounsaturated Fat | 75.mg Cholesterol | 97.7mg Sodium | 476.9mg Potassium | 0.4g Total Carbs | 0g Dietary Fiber | 0g Sugars | 29g Protein