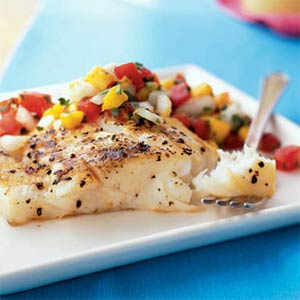 Description
Grilled Halibut with Jicama Salsa from the Public Health Cookbook by the Seattle & King County Department of Public Health—original source of recipe, public domain government resource
Ingredients
Jícama Salsa
Basic Ingredients
Directions
Mix all jicama salsa ingredients in a bowl, cover and refrigerate for 2 hours.
Place fish filets in a large, shallow glass baking dish.
Whisk together olive oil, lime juice, and herbs.
Pour marinade over fish, cover, and refrigerate 2 to 4 hours.
Preheat barbecue or gas grill.
Oil grilling rack, and adjust height to between 4 to 6 inches from heat.
Remove fish from marinade, and place on grill.
Cook 10 minutes per inch of thickness, or until fish flakes with a fork. Turn once to brown both sides.
Serve fish with jicama salsa.
Ad blocker interference detected!
Wikia is a free-to-use site that makes money from advertising. We have a modified experience for viewers using ad blockers

Wikia is not accessible if you've made further modifications. Remove the custom ad blocker rule(s) and the page will load as expected.