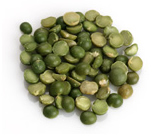 About green split peas
Edit
Green Split Peas (Pisum sativum) are part of the legume family. Split Peas are husked (or dehulled) and split in half. The Green Split Pea is about ¼ of an inch wide and pale green in color. Split Peas have a mild flavor and soft texture. The Split Pea has more of an earthy flavor than the whole dried pea, similar to the lentil in versatility and nourishment.
See also
Edit
Ad blocker interference detected!
Wikia is a free-to-use site that makes money from advertising. We have a modified experience for viewers using ad blockers

Wikia is not accessible if you've made further modifications. Remove the custom ad blocker rule(s) and the page will load as expected.