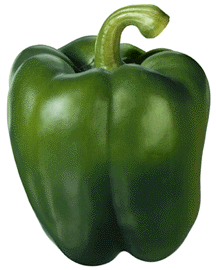 About green bell peppers
Edit
Good-quality green bell peppers will be firm, smooth-skinned and fairly evenly-shaped. The coloring will be even with no blemishes.
In the United Kingdom, Ireland, and Canada, the heatless varieties are called "peppers" or "sweet peppers" (or "green peppers," "red peppers," etc.) while the hot ones are "chilli/chillies" (two L's) or "chilli peppers".
Ad blocker interference detected!
Wikia is a free-to-use site that makes money from advertising. We have a modified experience for viewers using ad blockers

Wikia is not accessible if you've made further modifications. Remove the custom ad blocker rule(s) and the page will load as expected.