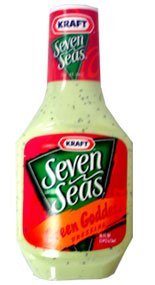 This dressing was created in the 1920s by the chef at San Francisco's Palace Hotel in honor of actor George Arliss, who was appearing locally in a play called Green Goddess. The classic green goddess dressing is a blend of mayonnaise, tarragon vinegar, anchovies, parsley, chives, tarragon, scallions and garlic. In addition to dressing salads, it's often used as a sauce for fish and shellfish.
Ad blocker interference detected!
Wikia is a free-to-use site that makes money from advertising. We have a modified experience for viewers using ad blockers

Wikia is not accessible if you've made further modifications. Remove the custom ad blocker rule(s) and the page will load as expected.