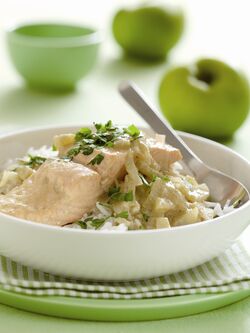 Description
Edit
"Thai food is not really my bag; to cook that is, as I do like to eat it occasionally. I find it lighter and tastier than Chinese and more subtle than Indian food. This dish is perfect for a summer lunch or dinner served only with boiled basmati rice. You can add more or less curry paste depending on how hot you like your curry. The apple offsets the richness of the coconut milk and works really well." Phil Vickery
Preparation time: 15 minutes
Cooking time: 10 minutes
Serves: 4
Copyright Phil Vickery
Ingredients
Edit
Directions
Edit
Pour the coconut milk into a large frying pan, add the shallots, sugar, curry paste (add a bit extra if you like it hot!) tamarind paste, apple and season well and bring to the boil. Cook for 2 minutes.
Next add the fish side by side to the pan, cover with a baking tray and simmer gently for about 2-3 minutes, cook until the fish is just very slightly undercooked - it will finish off cooking whilst it is standing.
Carefully transfer the fish to deep bowls, spoon the sauce over the top and sprinkle on the coriander. Serve with basmati rice.
Ad blocker interference detected!
Wikia is a free-to-use site that makes money from advertising. We have a modified experience for viewers using ad blockers

Wikia is not accessible if you've made further modifications. Remove the custom ad blocker rule(s) and the page will load as expected.