Description
Edit
When trimming the green beans, remove the root end, but leave the slender tip intact. It is edible and makes for a lovely presentation.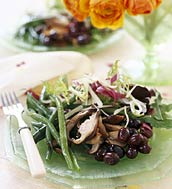 Ingredients
Edit
Dressing
Edit
Directions
Edit
In a large bowl, whisk all dressing ingredients together.
Make the salad: Bring a large pot of water to a boil. Add the beans, return to boil, and cook until tender-crisp, 2 to 3 minutes. Drain beans well, and add to dressing; toss to combine.
In a large nonstick skillet, heat oil over medium-high heat. Add mushrooms and salt. Sauté until mushrooms are tender and liquid has evaporated, stirring occasionally, 3 to 4 minutes. Stir in garlic.
Add the mushrooms to the bowl with the green beans, and toss well to coat with dressing. Add the salad greens and radicchio; gently toss to combine. Arrange salad on serving plates, and sprinkle each with cheese and .
Ad blocker interference detected!
Wikia is a free-to-use site that makes money from advertising. We have a modified experience for viewers using ad blockers

Wikia is not accessible if you've made further modifications. Remove the custom ad blocker rule(s) and the page will load as expected.