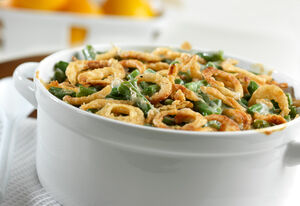 Description
Green bean casserole was invented in 1955 by the Campbell Soup Company. It has since become a Thanksgiving favorite in the United States.
Cook Time: 45 minutes
Ingredients
Topping
Directions
Fry bacon. Remove and dry on paper towel. Crumble bacon coarsely and set aside. Keep bacon grease and set aside
Coat a 2 quart casserole dish with non-stick spray
Combine green beans, onions, potatoes, and mushroom soup,Tony's and bacon in a bowl and gentley mix well. Pour into casserole dish and bake uncovered 350 deg for 35 min
Combine topping ingredients; sprinkle over the top of the casserole
Bake uncovered at 350°F for 10 more min or until cheese is melted
Tips
Ad blocker interference detected!
Wikia is a free-to-use site that makes money from advertising. We have a modified experience for viewers using ad blockers

Wikia is not accessible if you've made further modifications. Remove the custom ad blocker rule(s) and the page will load as expected.