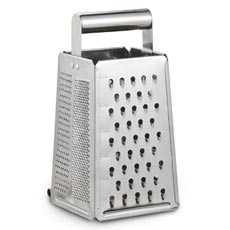 To reduce a large piece of food to small particles or thin shreds by rubbing it against a coarse, serrated surface, usually on a kitchen utensil called a
grater
. A
food processor
fitted with the metal blade can also be used to reduce food to small bits or, fitted with the shredding disc, to long, thin strips. The food to be grated should be firm, which in the case of cheese can usually be accomplished by refrigeration. Grating food makes it easier to incorporate with other foods.
Ad blocker interference detected!
Wikia is a free-to-use site that makes money from advertising. We have a modified experience for viewers using ad blockers

Wikia is not accessible if you've made further modifications. Remove the custom ad blocker rule(s) and the page will load as expected.