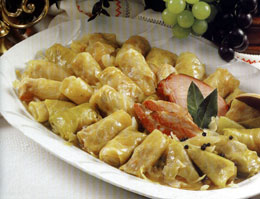 Ingredients
Edit
Sauce
Directions
Edit
Boil cabbage long enough that leaves separate without tearing.
Select 10 to 12 of the largest leaves and trim off midribs so leaves become easy to roll.
Soak bread in water and squeeze out.
Combine with meat and mix thouroughly.
Divide into as many portions as there are cabbage leaves and spread evenly on leaves.
Roll firmly, tucking edges so stuffing will not escape and secure with cotton thread, if desired. If there are not enough large leaves, use 2 small leaves.
Slice some of the remaining cabbage and place in the bottom of a large pot.
Arrange cabbage rolls tightly on top and add broth.
Bring to a boil, cover and simmer over low heat for about 30 minutes.
Arrange on hot platter, pour sauce over top and serve with hot boiled potatoes.
Sauce
Ad blocker interference detected!
Wikia is a free-to-use site that makes money from advertising. We have a modified experience for viewers using ad blockers

Wikia is not accessible if you've made further modifications. Remove the custom ad blocker rule(s) and the page will load as expected.