Ad blocker interference detected!
Wikia is a free-to-use site that makes money from advertising. We have a modified experience for viewers using ad blockers

Wikia is not accessible if you've made further modifications. Remove the custom ad blocker rule(s) and the page will load as expected.
Description
Edit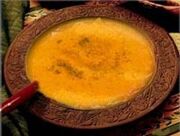 Ingredients
Edit
8 oz/1/4 kg Cauliflower flowerets cut into cubes
1 quart/liter milk
10 cashews, finely chopped
1 tsp. butter
2 cups water
1 tsp. Sugar
salt to taste
Freshly ground pepper to taste
A pinch of roasted and ground cumin as the garnish
Directions
Edit
Mix Cauliflower flowerets and cashews in water and milk and boil on low flame for 15-20 minutes. Remove from flame, let the mixture cool for sometime and then blend the mixture. Add salt, Sugar and pepper to the blended mixture and again boil the mixture. Stir in the butter near boiling point. Serve immediately garnished with coriander leaves and roasted cumin.
Serves: 4-6
Preparation time: 40-45 minutes
Other Links
Edit
See also
Edit