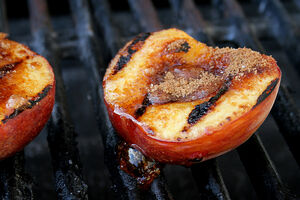 Prep: 5 minutes, Cook: 10 minutes.
Ingredients
Edit
2 Tbs. brown sugar
1 Tbs. water
4 Medium peaches, Halved And Pitted

Directions
Edit
Prepare the grill. Combine brown sugar And water in a Bowl. Place peach Halves on Grill Over Medium Heat And Cook 5 to 8 Minutes, Turning peaches Occasionally And Brushing With brown sugar Mixture, Until Hot And Lightly Browned.
Nutritional Information
Edit
Per Serving: Calories 72, Fat 1.0g, 10% Calories From Fat, Cholesterol 0mg, Protein 0.8g, Carbohydrates 18.7g, Fiber 2.2g
contributed by
Edit
Ad blocker interference detected!
Wikia is a free-to-use site that makes money from advertising. We have a modified experience for viewers using ad blockers

Wikia is not accessible if you've made further modifications. Remove the custom ad blocker rule(s) and the page will load as expected.