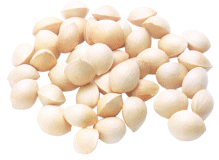 About Gingko nut
Edit
This buff-colored, delicately sweet nut comes from the center of the inedible fruit of the maidenhair tree, a native of China. Their hard shells must be removed with a nutcracker and the nutmeats soaked in hot water to loosen their skins. Ginkgo nuts are also available dried or canned in brine. The canned nuts must be rinsed of brine before using. Ginkgo nuts, which turn bright green when cooked, are particularly popular in Japanese cooking.
Ad blocker interference detected!
Wikia is a free-to-use site that makes money from advertising. We have a modified experience for viewers using ad blockers

Wikia is not accessible if you've made further modifications. Remove the custom ad blocker rule(s) and the page will load as expected.