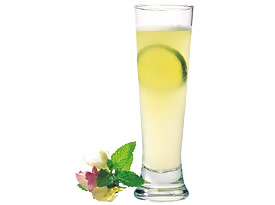 A cocktail made with gin, lemon juice, sugar and soda, served in a tall glass over ice. When an egg white is added, the drink is called a silver fizz. Adding orange-flower water and cream or milk to a silver fizz transforms it into a Ramos gin fizz, a New Orleans original created in the late 1800s by bar owner Henry Ramos.
Ad blocker interference detected!
Wikia is a free-to-use site that makes money from advertising. We have a modified experience for viewers using ad blockers

Wikia is not accessible if you've made further modifications. Remove the custom ad blocker rule(s) and the page will load as expected.