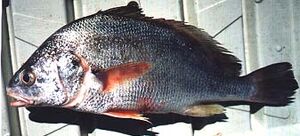 A freshwater
drum
that inhabits deep rivers and takes throughout the United States. Also known as goo or gou, this fish has a white, lean flesh with a succulently sweet flavor. Gaspergoo is most commonly available in the spring and summer months. It's suitable for frying, grilling, pan-frying or steaming.
Ad blocker interference detected!
Wikia is a free-to-use site that makes money from advertising. We have a modified experience for viewers using ad blockers

Wikia is not accessible if you've made further modifications. Remove the custom ad blocker rule(s) and the page will load as expected.