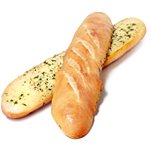 Garlic bread consists of Italian or French bread slices, spread on both sides with garlic butter and heated in the oven. There are many variations, including bread brushed with olive oil and sprinkled with minced garlic and herbs. It can also be broiled or grilled.
Ad blocker interference detected!
Wikia is a free-to-use site that makes money from advertising. We have a modified experience for viewers using ad blockers

Wikia is not accessible if you've made further modifications. Remove the custom ad blocker rule(s) and the page will load as expected.