Simple, delicious garlic prawns - we like these over noodles. Recipe is from Arun's restaurant in Chicago. Do not substitute oyster sauce for the fish sauce, they are not interchangeable. If you need to substitute the fish sauce, use either worcestershire sauce or soy sauce.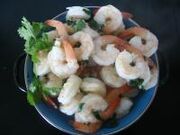 Ingredients
Edit
Directions
Edit
Heat oil in a large skillet over medium heat; add garlic, cook and stir until garlic is translucent, 2–3 minutes.
Stir in Shrimp, fish sauce, cilantro, black pepper and white pepper; cook over medium heat, stirring often, until Shrimp is opaque, about 3 minutes.
Ad blocker interference detected!
Wikia is a free-to-use site that makes money from advertising. We have a modified experience for viewers using ad blockers

Wikia is not accessible if you've made further modifications. Remove the custom ad blocker rule(s) and the page will load as expected.