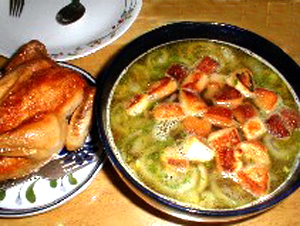 Comfort food. Garlic is good for you and tastes great. If you like French Onion soup, this is a nice addition to your soup collection. A salad is good with this soup for a light meal.
Ingredients
Edit
Directions
Edit
Blanche the garlic for about 30 seconds until slightly soft.
Cool, peel, and thinly slice.
About 10–15 minutes.
Add garlic, tomatoes and tomato juice to onions.
Bring to a boil, then reduce and simmer 30 minutes.
Preheat oven to 450°F.
Add beef broth and bring back to a boil.
Ladle into oven-proof bowls and top with toast and cheese.
Put in oven until cheese is melted.
Ad blocker interference detected!
Wikia is a free-to-use site that makes money from advertising. We have a modified experience for viewers using ad blockers

Wikia is not accessible if you've made further modifications. Remove the custom ad blocker rule(s) and the page will load as expected.