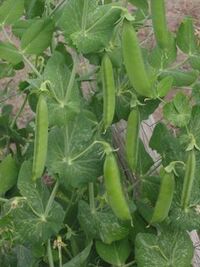 Name Variations
Edit
English pea
green pea
shell pea
fresh pea
shellpeas
shellies
shuckies
shellouts
About Garden pea
Edit
Wikipedia Article on Peas
A pea is the small, edible round green bean which grows in a pod on the leguminous vine Pisum sativum. This legume is cooked as a vegetable in many cultures. Several other seeds of the family Fabaceae, most of them round, are also called peas; this article deals with the species Pisum sativum and its cultivars. The pea plant is an annual plant, with a lifecycle of a year.
Ad blocker interference detected!
Wikia is a free-to-use site that makes money from advertising. We have a modified experience for viewers using ad blockers

Wikia is not accessible if you've made further modifications. Remove the custom ad blocker rule(s) and the page will load as expected.