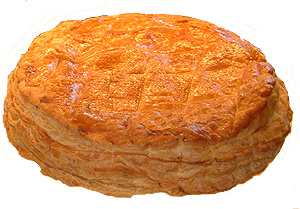 A galette is a round, rather flat cake made of flaky-pastry dough, yeast dough or sometimes Unleavened dough. The term also applies to a variety of tarts, both savory and sweet, and there are as many variations as there are French regions. They may be topped with fruit, jam, nuts, meat, cheese, etc. Galette des Rois, the traditional cake served during Twelfth Night festivities, often contains a bean or other token, which is guaranteed to bring the recipient good luck.
Ad blocker interference detected!
Wikia is a free-to-use site that makes money from advertising. We have a modified experience for viewers using ad blockers

Wikia is not accessible if you've made further modifications. Remove the custom ad blocker rule(s) and the page will load as expected.