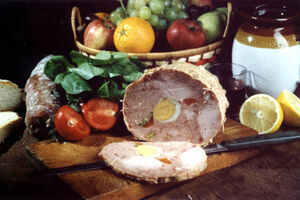 A classic French dish that resembles a meat-wrapped
pâté
. It's made from
poultry
,
meat
or
fish
that is boned and stuffed with a
forcemeat
, which is often studded with flavor- and eye-enhancers such as
pistachio
nuts,
olives
and
truffles
. The stuffed meat roll is formed into a symmetrical loaf, wrapped in
cheesecloth
and gently cooked in
stock
. It's then chilled, glazed with aspic made from its own jellied stock and garnished with items (such as pistachios, olives and truffles) that have been included in the filling. Galantines are normally served cold, cut in slices.
Ad blocker interference detected!
Wikia is a free-to-use site that makes money from advertising. We have a modified experience for viewers using ad blockers

Wikia is not accessible if you've made further modifications. Remove the custom ad blocker rule(s) and the page will load as expected.