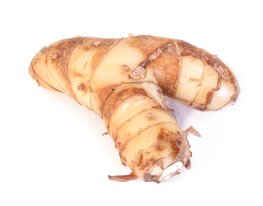 Name Variations
Edit
Laos
java root
galingale
lengkuas
kha
About Galangal
Edit
Galangal, Alpinia galanga, grows from rhizomes in clumps of stiff stalks up to 6½ feet tall, with abundant long leaves and bearing red fruit. It is native to Southeast Asia and is cultivated in Indonesia, Laos, Malaysia, and Thailand, where it features frequently in their cuisines.
The creamy white fleshed rhizome in the ginger family is primarily used as a seasoning. It has a mild, sharp-sweet, resinous flavor suggesting a blend of black pepper and pine needles.
It is also known as in English as greater galangal, Thai ginger, Siamese ginger and Laos ginger. In Indonesian and Malay it is called laos and lengkuas; in Thai it is kha.
Ad blocker interference detected!
Wikia is a free-to-use site that makes money from advertising. We have a modified experience for viewers using ad blockers

Wikia is not accessible if you've made further modifications. Remove the custom ad blocker rule(s) and the page will load as expected.