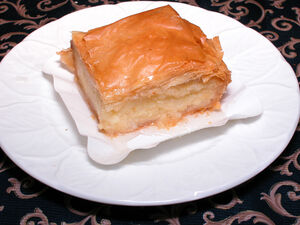 Also spelled Galaktoboureko, is Greek dessert prepared with phyllo pastry that is filled with a vanilla or orange flavored custard. Typical ingredients include milk, eggs, butter, farina cereal or semolina, sugar, lemon rind, salt, and vanilla essence. A syrup made from sugar, water, lemon juice, and other flavors is often poured over this dessert after it has cooled.
Ad blocker interference detected!
Wikia is a free-to-use site that makes money from advertising. We have a modified experience for viewers using ad blockers

Wikia is not accessible if you've made further modifications. Remove the custom ad blocker rule(s) and the page will load as expected.