Ad blocker interference detected!
Wikia is a free-to-use site that makes money from advertising. We have a modified experience for viewers using ad blockers

Wikia is not accessible if you've made further modifications. Remove the custom ad blocker rule(s) and the page will load as expected.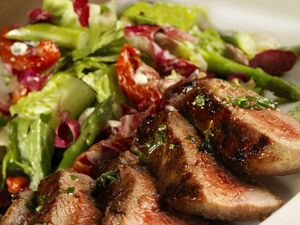 GRILLED STEAK SALAD WITH SWEET AND SOUR VINAIGRETTE
 6 oz. sirloin steak
 Bibb lettuce
 Romaine lettuce
 Cherry tomatoes
 2 red potatoes
 Cucumber
 Alfalfa sprouts
 Shredded carrots
 1/2 c. orange marmalade
 1/2 c. orange juice
 1/2 c. lemon juice
 1/2 c. red wine vinegar
 1/2 tbsp. ground ginger
 1/2 tbsp. minced garlic
 1 c. olive oil

On large, round plate, arrange 6 leaves of Bibb lettuce on outside of plate. In center put 6 oz. chopped Romaine lettuce. Around Bibb lettuce leaves, arrange 4 cherry tomatoes, 4 slices cucumbers, 2 boiled red potatoes, sliced and 1 oz. of alfalfa sprouts.
Grill steak to desired doneness. Cut in strips. Place on top of Romaine lettuce, then cover steak with carrots, top with vinaigrette. Add rest of ingredients and mix well.
Enjoy.
Contributed by:
Edit