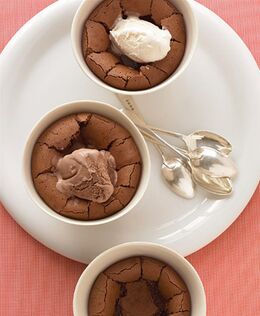 Description
Edit
This is great with vanilla ice cream or chocolate Cool Whip!
Ingredients
Edit
Directions
Edit
Preheat oven to 400°F.
Spray a 1½ qt round casserole with non- stick cooking spray.
In large bowl, with an electric mixer, beat ¼ cup of the sugar and the margarine until light and fluffy.
Sprinkle over the mixture in the casserole.
Carefully pour hot water over the entire mixture.
Bake for 30 – 35 minutes.
To serve, spoon warm pudding into 6 individual serving dishes.
Nutritional information
Edit
Per serving:
231 calories | 5g protein | 10g fat | 33g carbohydrates | 116mg calcium | 410mg sodium | 36mg cholesterol | 2g dietary fiber
2 fats | 1 bread
Ad blocker interference detected!
Wikia is a free-to-use site that makes money from advertising. We have a modified experience for viewers using ad blockers

Wikia is not accessible if you've made further modifications. Remove the custom ad blocker rule(s) and the page will load as expected.