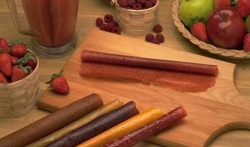 Fruit leathers are homemade fruit rolls. They are a tasty, chewy, dried fruit product. Fruit leathers are made by pouring pureed fruit onto a flat surface for drying. When dried, the fruit is pulled from the surface and rolled. It gets the name "leather" from the fact that when the pureed fruit is dried, it is shiny and has the texture of leather.
Ad blocker interference detected!
Wikia is a free-to-use site that makes money from advertising. We have a modified experience for viewers using ad blockers

Wikia is not accessible if you've made further modifications. Remove the custom ad blocker rule(s) and the page will load as expected.