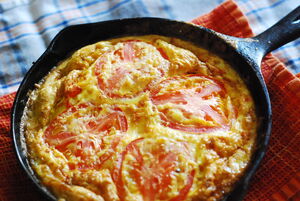 An Italian Omelet that usually has the ingredients mixed with the eggs rather than being folded inside, as with a French omelet. It can be flipped or the top can be finished under a broiling unit. An omelet is cooked quickly over moderately high heat and, after folding, has a flat-sided half-oval shape. A frittata is firmer because it's cooked very slowly over low heat, and round because it isn't folded.
Ad blocker interference detected!
Wikia is a free-to-use site that makes money from advertising. We have a modified experience for viewers using ad blockers

Wikia is not accessible if you've made further modifications. Remove the custom ad blocker rule(s) and the page will load as expected.