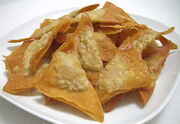 Ingredients
Edit
one teaspoon salt or fish sauce
one pound raw shrimp
one teaspoon sugar
1 table spoon corn starch
1 lightly-beaten egg white
½ teaspoon sesame oil
one table spoon oil
wonton skins
few dashes of white pepper
Directions
Edit
To cook, de-vein the shrimp and toss it aside. Then, using a mini food processor, beat the egg white until it becomes frothy, and add the raw shrimp, along with the other seasonings. Carefully blend these ingredients until they form a shrimp paste. Next, cut the wonton skins into very small strips and place them on a flat surface.
Form the shrimp paste into balls and roll them in a bed of wonton skin, but ensure that the wonton skin will evenly coat the shrimp balls. Next, deep fry the shrimp balls in a wok, until they get golden brown. Serve with hot sauce, or preferably Thai sweet chilli sauce.
Ad blocker interference detected!
Wikia is a free-to-use site that makes money from advertising. We have a modified experience for viewers using ad blockers

Wikia is not accessible if you've made further modifications. Remove the custom ad blocker rule(s) and the page will load as expected.