Description
Edit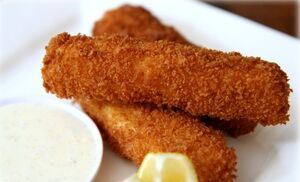 A Catfish recipe.
Ingredients
Edit
Directions
Edit
1. Preheat the oven to 475 °F.
2. Lightly oil or coat a large baking sheet with nonstick cooking spray and set aside.
3. Combine the cornmeal, Cheese, garlic poweder and salt in a medium bowl and mix well.
4. Place the oil in a small bowl. Lightly coat each piece of fish in the oil and then roll in the breading until well coated.
5. Arrange the fish on the prepared baking sheet and bake until golden brown, 10 to 12 minutes.