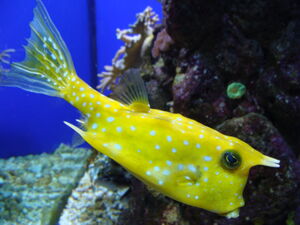 Prep Time: 10 minutes
Cook Time: 5 minutes
Yields: 2 servings
Description
Edit
This is a simple recipe for a classic dinner appetizer, fried cowfish.
Ingredients
Edit
10 live cowfish
4 cups vegetable oil
1 tbsp garlic salt
1 tbsp bread crumbs
1 tsp red pepper flakes
Directions
Edit
Over high heat, prepare a small pan with the 4 cups of vegetable oil. While you wait for the oil to heat, spear each cowfish through the head with a pin, killing them instantly.
Cover a small plate with your mixture of garlic salt and bread crumbs, and then roll each cowfish in them, covering them in a moderate coating.
Now that your oil is hot, use a pair of tongs to hold each cowfish in the oil for about 30 seconds or until golden brown, one at a time.
Place the cooked cowfish in a bowl, sprinkle with red pepper flakes and serve.
Ad blocker interference detected!
Wikia is a free-to-use site that makes money from advertising. We have a modified experience for viewers using ad blockers

Wikia is not accessible if you've made further modifications. Remove the custom ad blocker rule(s) and the page will load as expected.